Sure … a spider did this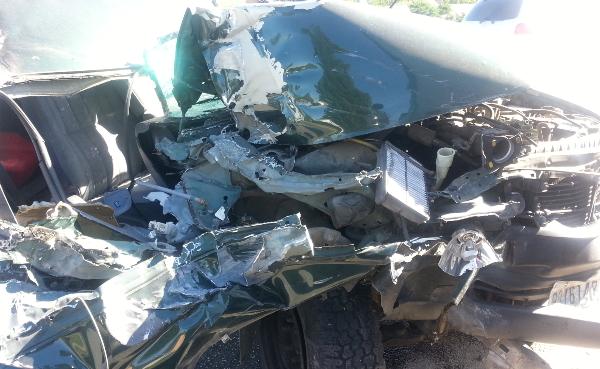 …. and then Jesus and his angels hoisted grateful Levi and his smashed Tacoma into their loving arms. The spider, unidentified and unquoted, apparently went back to Satan's lair to plot anew.
Spider Causes Spokane Man To Crash Into Semi
KHQ-TV, July 20, 2013 
     SPOKANE, Wash. – Around 8:30 Saturday morning, Levi Van Dyke was driving and crashed his Toyota Tacoma truck into the back of a semi truck.
      "A spider was crawling up the back of my leg and when I actually saw it, I freaked out and started swatting at it … at just the wrong time," Van Dyke said.
      Despite the severity of the crash as the pictures show, Van Dyke was somehow able to walk away with just a scratch on his head and shoulder. "I got some angels, Jesus loves me," he said with a smile.
      The crash happened at 3rd and Lacey just off of I-90 right off the Altamont exit.
      The driver of the semi was fine.